Pardon the dust! This is the under-construction version of the SP homepage. Many features might be broken or missing!
If you can't find something, try the old website here.
Smoking Policy
Inside the building
Absolutely NO SMOKING inside Sidney-Pacific
Do not tamper with smoke detectors in your room or in common spaces
Smoking inside the building or tampering with smoke detectors may result in a fine or eviction from the building
Outside of Sidney-Pacific
No smoking inside the Sidney-Pacific courtyard
Smoking can be done on the street or in the parking lot but must be at least 30 feet (9 meters) away from the building (See the orange area in the picture below for the area you may smoke)
Note that Sidney-Pacific follows MIT's policy on prohibited substances (see here), which prohibits the use of recreational and medicinal marijuana.
Community Wellness at MIT Medical provides free tobacco treatment services for those who want to quit smoking; see here for details.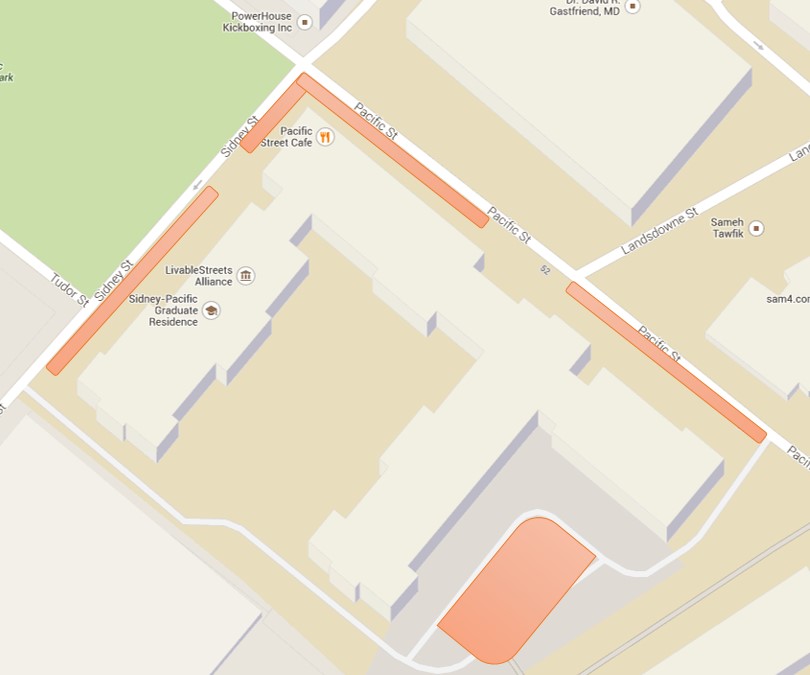 (Map information taken from Google)